All the 11 Red Cards Cristiano Ronaldo has gotten in his Career
It's not very common to see a striker get a red card. Midfielders are more prone to getting booked in a game than strikers. As the saying goes, the game of football is won and lost in the middle.
It is more surprising to see a striker whom every fan and supporter expects to make the starting 11 weeks in week out not available for selection because of suspension.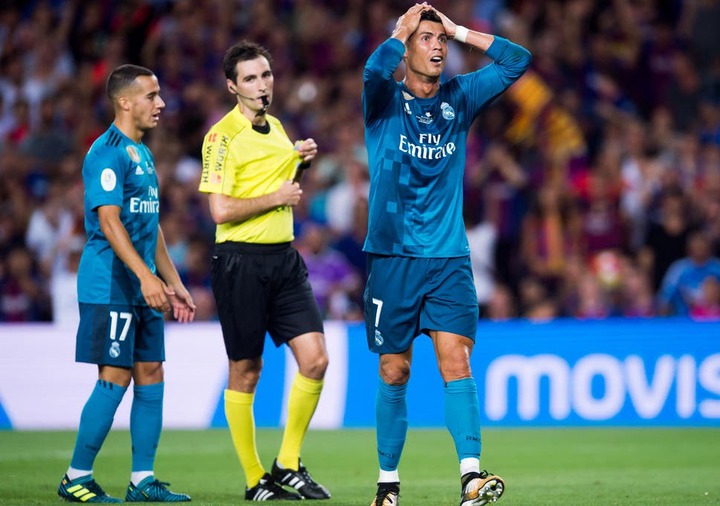 Today we would take a look at one of the best players in football history, Cristiano Ronaldo.
Ronaldo has been shown a red card 11 times in his entire career. That's quite high, given the fact that his Barcelona counterpart has collected just 2 red cards in his entire career both at Barcelona and Argentina.
We would take a look at the game Ronaldo got each of his 11 red cards, what lead to the incidence and whether he was suspended or not
Out of the 11 red cards, Ronaldo was shown a straight red card on 4 Occasions.
3 out of the 11 red cards all came in a Local derby
1st Red Card
Aston Villa 0 vs 2 Manchester United ( May 15, 2004)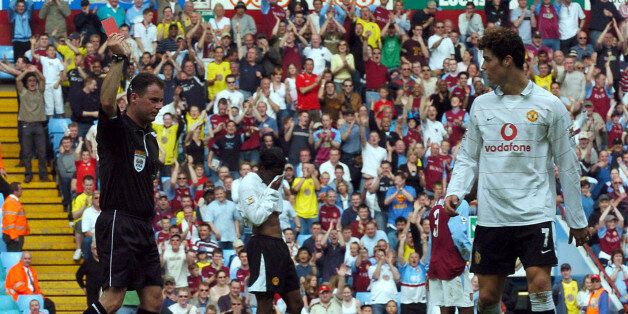 It was the game of the season for Manchester United and they were up against Aston Villa.
Cristiano Ronaldo scored in the 4th minute to give united a 1-0 lead. 6 minute later, Van Nistelrooy made it 2-0. United was two-nil up in the 10th Minute.
However, the game took a different turn in the 75 minutes when Fletcher was shown a red card. In the 85th Minute, Ronaldo was given a second yellow for time-wasting after being shown a yellow card earlier on for diving.
After careful investigation, his first yellow card was cancelled which, meant that he wouldn't serve any suspension.
2nd Red Card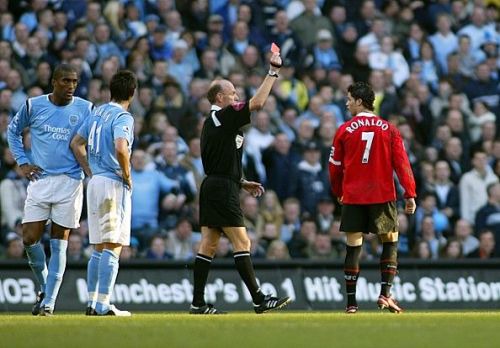 It was Manchester derby in 2006, City was still considered by Manchester United as Noisy neighbours. But Alex Ferguson's boys were shocked by Man City.
At Half Time Stuart Pearce Manchester city team lead man United by 2 goals to Nill. It was game, set and match in the 662nd minute when c.Ronaldo was shown a Red Card for a rough challenge on Andy cole. United pulled one back through Van Nistelrooy but a 90th minute Robbie Folwer goal meant that city would win the derby 3-1
3RD Red Card
August 15, 2007, Portsmouth 1 Manchester United 1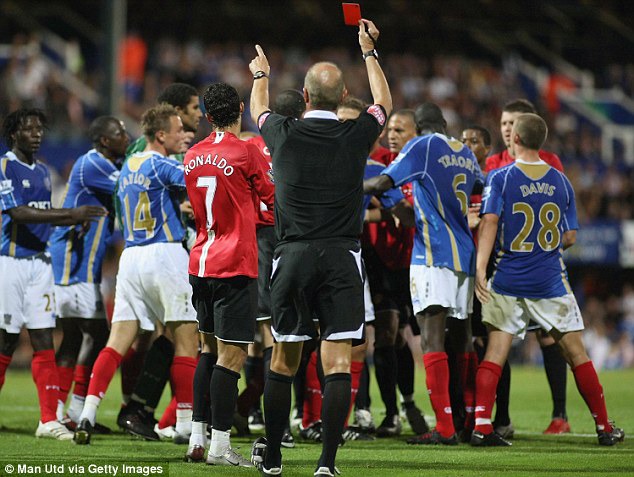 It was another premier league weekend and United played Portsmouth a visit. They were the favourites to get all the 3 points and when schools opened the scoring just after 15 mins this looked certain.
After the restart, the game got tougher and Benjani brought the game level in the 53rd minute.
Time was running out for United to grab a winner and in the 85th minute, Ronaldo was shown a red card for a head but of Richard Hughes. Sulley Muntari of Portsmouth also got his share of the red card after getting a second yellow in the course of the incidence.
4TH Red Card
November 30, 2008, Manchester City 0 Manchester United 1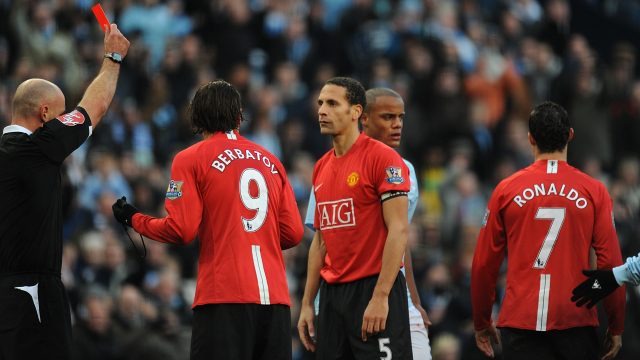 It was another Manchester derby in 2008 and once again Ronaldo was shown a red card. A first yellow card for a bookable challenge on wright-Phillips. Later on, he handled the ball with his hands in a manner that convinced the referee to show him a second yellow. United later won the game 1-0.
5TH Red Card
December 5, 2009, Real Madrid 4 Almeria 2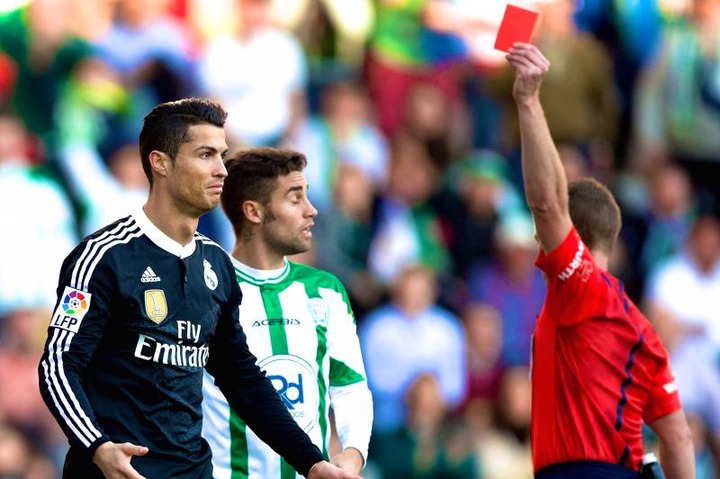 After Ronaldo switched to real Madrid in 2009, he got his first red card at the Bernabeu in a game against Almeria. It was a frustrating game for the Portuguese striker. He had missed a penalty earlier on and wanted to make up for the incidence. He refused to control his aggression and got two petulant late bookings. He missed a game after that.
6TH Red Card
January 24, 2010, Real Madrid 2 Malaga 0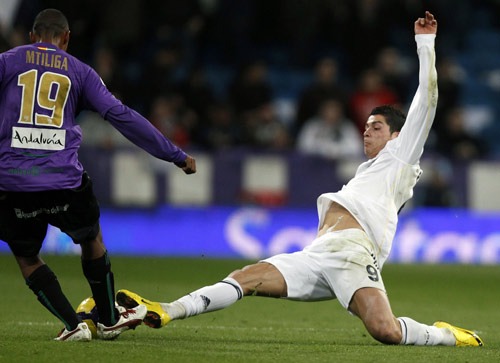 4 weeks after he got his first Red card at Madrid, he got his second. Madrid was two-nil up, thanks to Cristiano Ronaldo's brace but a red card for elbowing Patrick Mtiliga meant that Ronaldo won't get the chance to score a hat trick.
7TH Red Card
May 17, 2013, Real Madrid 1 Atletico Madrid 2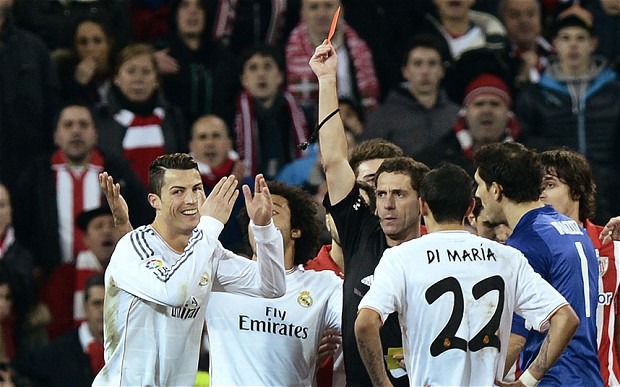 Ronaldo's trend of getting a red card in derbies followed him to real Madrid. In 2013, Ronaldo was shown a red card for kicking Atletico Madrid's captain, Gabi. Real Madrid lost the game, that was the first time they lost to their local rivals in 14 years. The red card also ruled Ronaldo out for the rest of the season.
8TH Red Card
February 2, 2014, Athletic Bilbao 1 Real Madrid 1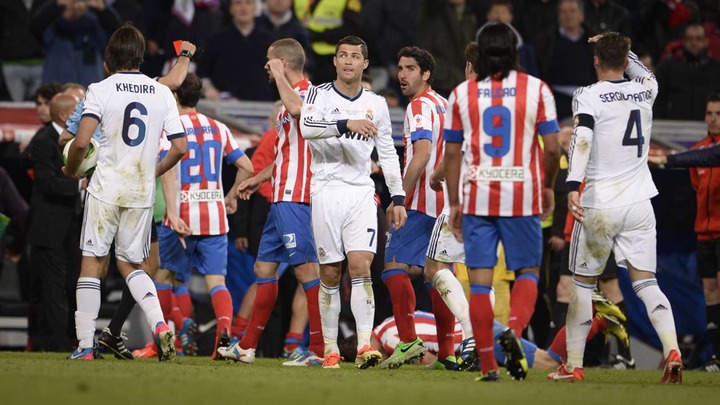 Cristiano Ronaldo's 8th red card came against Athletic Bilbao in 2014. The world best player clashed with Carlos Gurpegi and then had a heated argument with the referee. He was shown a straight Red Card and was handed a 3 match ban
9TH Red Card
January 24, 2015, Cordoba 1 Real Madrid 2
Indiscipline ta its peak from the Portuguese. In 2015 against Cordoba, Ronaldo was shown a straight red for kicking out Edimar, Cordob's defender.
10Th Red Card
August 13, 2017, Barcelona 1 Real Madrid 3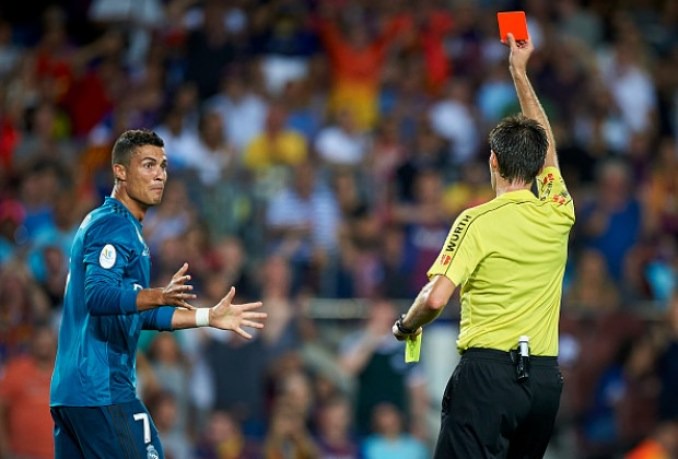 Cristiano Ronaldo's last red card for Real Madrid came in 2017 against Barcelona in the super cup. Ronaldo was introduced by Zidane in the second half. He quickly stole the show and gave Madrid a 2-1 lead. As part of his celebration, he removed his shirt and was shown a yellow card.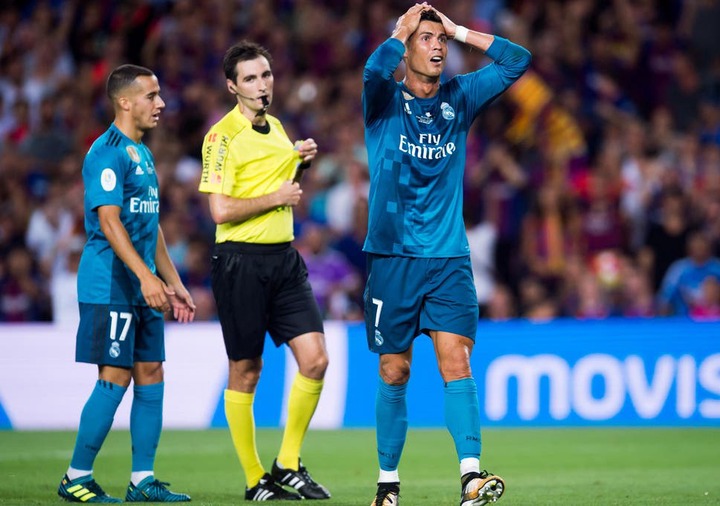 Few minutes after scoring, he was shown a second yellow and a red card for diving.
11TH Red Card.
September 19, 2018, Valencia v Juventus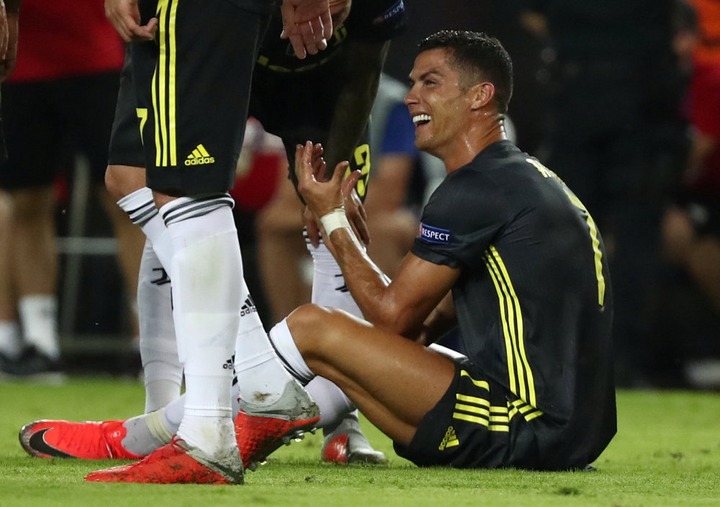 The most recent of all, Ronaldo got his first red card for Juventus on his champions league debut for the old lady.
Just 29 minutes into the clash he had an altercation with Jeison Murillo and the referee sent him off.